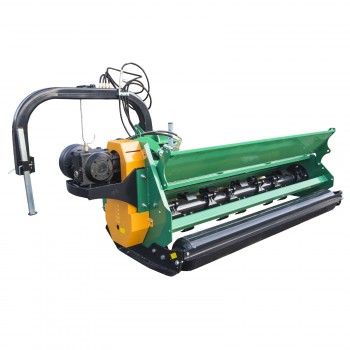 Verge Flail mower 1.8m
£2,490.00
New model with flap. Improve efficiency and reduce wear and tear!
• 1.8 m working width for tractors with 60 hp or more
• 24 powerful forged hammer flails make cutting grass and saplings an easy task
• The hydraulic side shift adjustment means you don't drive over and flatten uncut grass
• Cutting head can be angled 42° downwards and 90° upwards
• Flow valve ensures smooth angular movement
• Sturdy supporting roller makes it easier to follow the ground
• High level of safety thanks to collision protection that angles the machine upwards
• Hose break check valve prevents the machine from dropping if the hose breaks.
Increase speed with a verge flail mower fitted with a flap
Fitted with a flap at the back, which releases the grass to avoid excessive accumulation under the hood. You save on fuel and reduce wear on the belts, and you can also operate at a higher speed, as the grass does not become twisted around the roller. The grass is also spread more evenly.
**SHIPPING**
Shipping rates for this item depend on Buyers location. Please enquire by email or phone to confirm shipping rate before purchase of this item from the Store